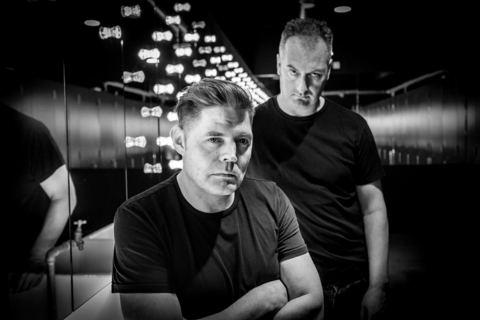 Slam are a tour de force on the global techno circuit. Their unique, 6 deck, back-to-back DJ performances have seen the duo play leading clubs & festivals across the world. They are renowned for both their experience and their powerful, contemporary sound.

They are co-owners of Glasgow's Riverside Festival, and also host the legendary Maximum Pressure warehouse parties, which showcase the best emerging local talent alongside some of the most established names in international techno.

The last few years have seen some of the duo's most prolific studio output as they continue to innovate and keep things moving forward, most recently with the release of their new EP Scourge. In addition, Slam have also remixed tracks from the likes of Planetary Assault Systems, Clouds, Dax J, Damon Wild, Richie Hawtin, and Truncate, to name just a few.

Slam also host one of Techno's most respected weekly podcasts, Slam Radio, which has now surpassed over 300 episodes. The show allows the duo to demonstrate their conviction to creating and promoting music and vibes that provide an antidote to the mainstream by inviting fellow artists from the vibrant Techno scene, from obscure names to current trailblazers.

Slam instigated Glasgow's underground House music scene in the late 1980s, going on to be instrumental in the explosion of the UK Techno scene, and their quarter of a century of exploits have seen them travel far and wide, leaving scorch marks on dance floors everywhere while taking their uncompromising vision of Techno around the world.

Closer to home, since 1997, SLAM have curated the Slam Tent at Scotland's biggest festival T in the Park, and more recently Riverside Festival with some of the world's best known DJs and live acts playing alongside underground ground breaking talent on their monumental stage. Their firmly established monthly club events in Glasgow, Pressure (formerly at the Arches now at SWG3) and Return To Mono at the Sub Club, are ranked amongst the best nights out on the planet.

SLAM have never been ones to rest on their musical laurels and they are constantly and consistently experimenting in the studio, working multitude of tracks.